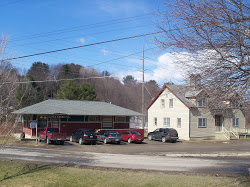 189 Cemetery Road
Fly Creek, NY
607 437 - 8539
Cooperstown Area Massage is conveniently located approximately 2 miles from Cooperstown in the scenic hamlet of Fly Creek.
From Main St. Cooperstown, turn left at the only traffic light onto Chestnut St (Rte 28 S)
In approximately 1/2 mile, turn right at the large ,brick Methodist church onto Route 28/80
Continue on 28/80 for 2 miles until you reach the second blinking traffic light at the center of FLy Creek. This is the intersection of State Routes 28/80 and County Rte 26 and you will see Portobellos Restaurant and the Fly Creek Fire Station.
Turn left at this light and immediately bear to the right onto Cemetery Road.(closer to Portobello's,)
1/2 mile down Cemetery Road you will see a resotred train station and a tan, two-story building with maroon trim. Our office is located on the second floor of the tan building.